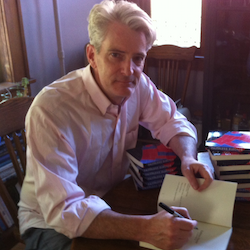 Book Club Discussion Questions for James McCrone, author
McCrone is the author, most recently, of the suspence-thrillers, FAITHLESS ELECTOR , DARK NETWORK and EMERGENCY POWERS.

James is drawn to taught stories, strong characters and good writing. These are what (good) mystery-thrillers deliver. The writers he admires—Le Carre, Follett, Greene, to name a few— propel their stories relentlessly, economically. At the same time, though, they're not afraid to pause over a question or to notice beauty. Le Carre and Greene in particular are masters of putting to work every little thing they pack into their narratives. James says, "I hope my work is as full." Inspiration can come from anywhere, but he's most interested in stories where the official version of events seems thin, naïve, or deliberately misleading. "I want to know the rest of the story, the other side," he says. "For instance, when I first learned about how the Electoral College works and that electors weren't bound to vote as promised, I thought it was mad. It seemed ripe for mischief. The idea and the outline for Faithless Elector came quickly. The writing of it came much slower."


QUESTIONS



BOOK CLUB DISCUSSION QUESTIONS FOR - Emergency Powers
1. The author, James McCrone, says this isn't a political book. Why do you think he said that?
2. Who - or what - do you think is represented on the cover?
2a. What do you think of the book's cover? How well does it convey what the book is about?
3. What did you like best about this book? Least?
4. What other books did this remind you of?
5. Which characters in the book did you like best?
6. If you were making a movie of this book, who would you cast?
7. Do you think Hollywood would do a good job with making Emergency Powers into a movie. Why/Why not?
8. Do you have a favorite quote from the book? Why did this quote stand out?
9. Have you read the other books by this author? How did they compare to Emergency Powers?
10. Would you read another book by this author? Why or why not?
11. What feelings did this book evoke for you?
12. If you got the chance to ask the author of this book one question, what would it be?
13. Which character in the book would you most like to meet?
14. What do you think of the book's title? How does it relate to the book's contents? What other title might you choose?
15. What do you think the author's purpose was in writing this book? What ideas was he or she trying to get across?
16. Did this book seem realistic?
17. How well do you think the author built the world in the book?
18. Did the characters seem believable to you? Did they remind you of anyone?
19. Did the book's pace seem too fast/too slow/just right?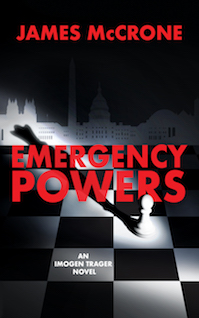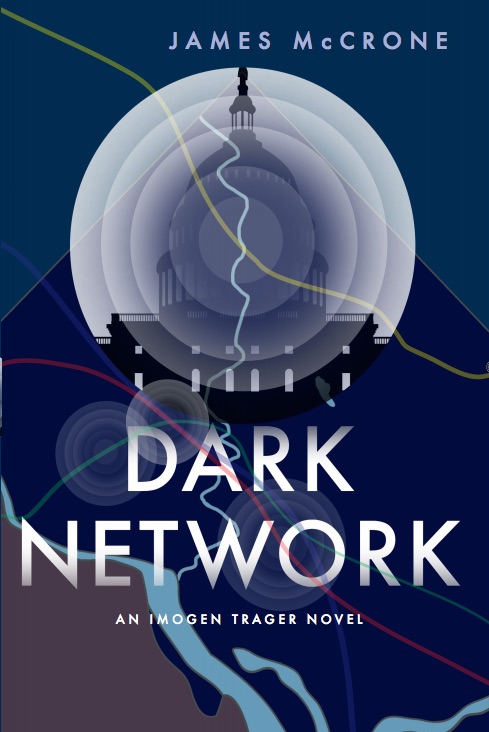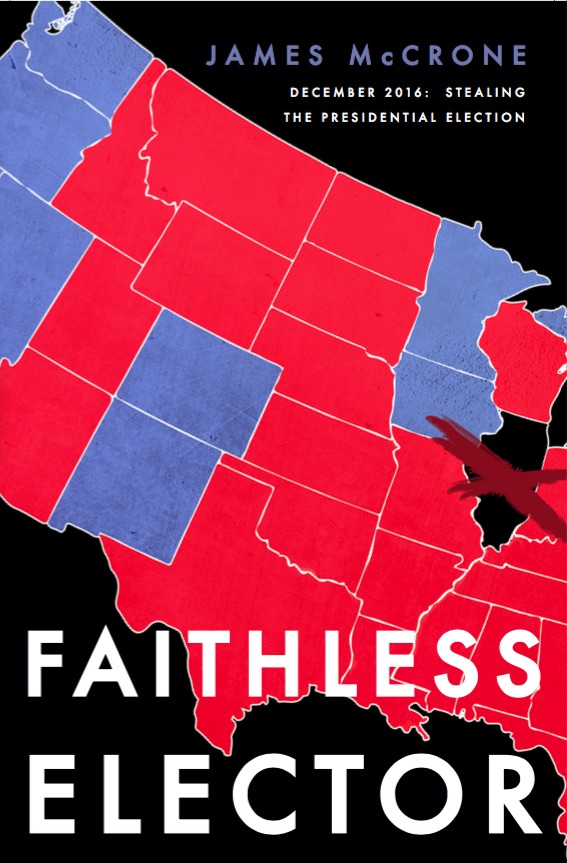 The Imogen Trager series offers a sharp critique of US politics and its dependence on a Constitution that did not anticipate the ruthlessness of the modern criminal-business complex. Illuminating how fragile our protocols are, James McCrone shows how easily power can be stolen by a hidden network with a criminal agenda, and what one intense, committed woman can do about it.




McCrone is also at work on a play set in a busy New York kitchen, called Culinati, and a historical piece, exploring the friendship between Andrew Marvel and John Milton, as yet untitled.

He is a member of the International Association of Crime Writers, the Mystery Writers of America and Sisters in Crime.



McCrone's work both on an off the page deals with politics and issues of social responsibility, accountability and justice. He has worked in community development and affordable housing for more than fifteen years and has been writing and cooking for longer than that.





McCrone graduated in 1990 from the University of Washington in Seattle, with a Master of Fine Arts degree in Creative Writing. National Book Award Winner (

Middle Passage

) Charles Johnson, was the chair of his committee.



McCrone lives in South Philadelphia with his wife and three children. He is also the Business Manager for the 9th Street/Italian Market business association.



He is formerly the Executive Director of Bloomfield Center Alliance and Main Street Highland Park, both in New Jersey.



Follow James on Twitter @JamesMcCrone4, and on Facebook, Faithless Elector by James McCrone